FragTrade have been working hard to improve their systems by the addition of a new Aqua Oak 650. This stunning aquarium is powered by Hydra 64 lights, Nero 5 wavemakers and a Quantum skimmer. So far the tank has been set up for little under 10 days and already is home to SPS such as montipora digitata and capricous. Along with an array of Zoanthids and cyphastrea coral, a fast growing hardy LPS coral. Although these are hardier corals in their respective families, this is still no mean feat. FragTrade had a few tricks up their sleeve to ensure the success of an accelerated Nitrogen cycle, something that usually takes 2-3 weeks alone before even the hardiest corals such as GSP can thrive in. So what is their secret?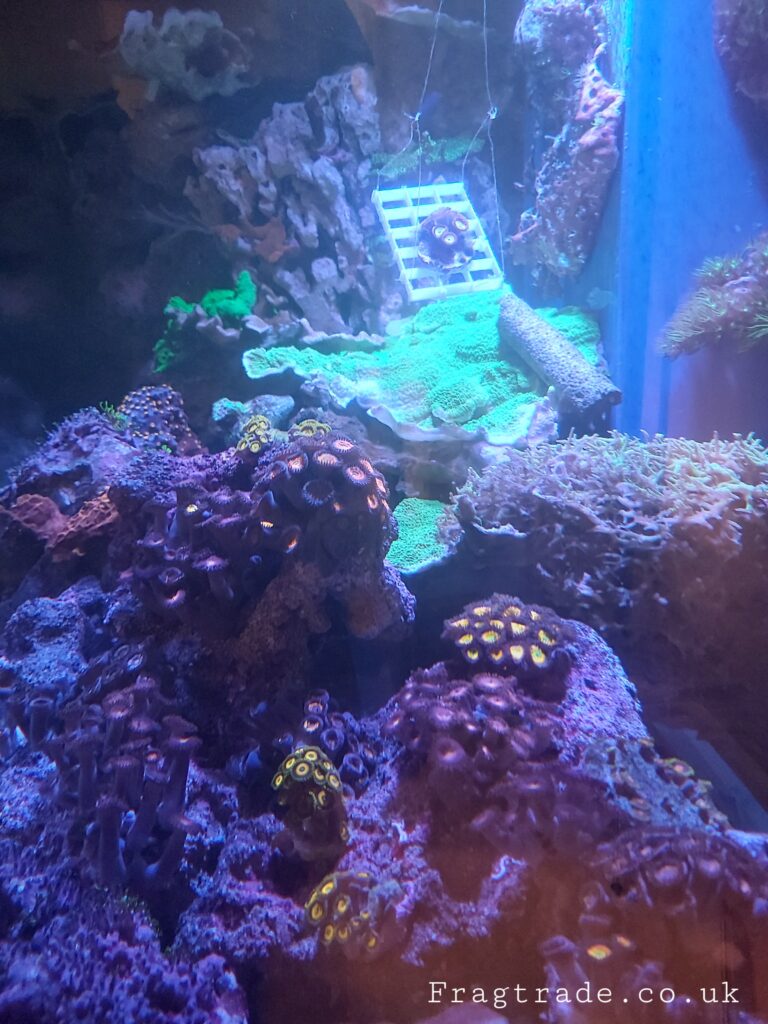 Firstly, FragTrade's approach is to get the food chain established. Corals have two forms of feeding, one of which is often ignored by aquarists due to the worry of Phosphate and Nitrate spikes. This is totally understandable. Approximately 210 million of years ago, in the late Triassic period (early dinosaur era), corals formed a mutually beneficial relationship with algae, specifically a dinoflagellate by the name of zooxanthelle (When Corals Met Algae, 2016). To date this relationship is so intimate that corals primarily rely on zooanxthelle for nutrients.
In fact, it's estimated that zooanxthelle can supply corals with up to 95% of their daily energy needs in nutrient poor waters (Martin, 2018). However, Scripps scientists found that corals living in waters with higher chlorophyll concentrations (from phytoplankton) get more of their energy from feeding on plankton, suggesting that some corals are less reliant on their algae, which could have implications for coral resilience. It could be suggested that it may be the same for home aquariums, but no research is yet to be made (Martin, 2018).
The link to this following paper is the first bit of evidence ever found that corals will feed more when the food is available:
https://scripps.ucsd.edu/news/estimating-feeding-habits-corals-may-offer-new-insights-resilient-reefs
Plankton come at the very start of the food chain. A research team in Australia lead by Dr House et al (2013), found fossils of photosynthetic plankton (know today as Phytoplankton) dating  back to 3.4 billion years ago. Corals have been feeding and still do to date on plankton for generations.
Below is an Image of the evolution of corals:

Although evolution means the plankton and corals around today are different to past species, one thing can be assumed; corals require plankton for life. Yes, some need it more than others. Yes, reefers have always got on ok without it. But in our opinion, if you want the ultimate reef, as quick and healthy as possible, just use natures products. Feed live foods, use them to kickstart reefs, after all, phytoplankton uptake nitrogen via photosynthesis, which mediates more stable nitrogen levels (Cai et al., 2019). Surely this will only aid your Nitrifying bacteria in kickstarting the Nitrogen cycle. Then, when corals are introduced, they consume the plankton, thus feeding into the circular cycle of life itself.
The show tank's sump is approximately 100 litres in size. The sump was filled up with live rock and 100ml of Phytoplankton was added in the first day, with a Fluval marine light 2.0 running on max for 2 days. Then 200ml of rotifers and copepods mix was added on the third day. The sump was left for an additional 3 days. After day 5 we were lucky to secure more stock and with it, approximately 200 litres of mature tank water with it. The sensitive stock was added to our Frag Tank, FT600, and the stock from the pictures was immediately added to the new show tank. Synthetic saltwater (RO water and Aquaforest reef salt) made up the rest of the water in the aquarium. The addition of the mature water defiantly helped. Which was aided by 20 kilograms of Reef rock, 10 of which was live and 10 dry. The sump was connected with the tank for the first day without a protein skimmer running. We worked from 2pm to 2am on the tank. Coral health waits for no one.
Take a look at this video tour of FragTrade HQ:
The protein skimmer was off for 12 hours from 2am. The following day at 2pm the skimmer, lights and wavemakers on acclimatisation mode and our new Show tank was up and running. FragTrade is delighted to report that there was no coral mortalities. Instead, from day 1 we had a great show tank that I'm sure will become a really feat in FragTrade history. FragTrade purchased a show tank for 2 reasons. Firstly, Matt and Michael are hobbyists at heart and both enjoy reef keeping. FragTrade's aim is to not simply to profit off your custom, but to educate you and ourselves on how to preserve corals in home aquariums. Secondly, FragTrades aim is to be a 100% sustainable fragging company in which all frags sold are to be UK grown. To do this FragTrade selects what we call sustainable colonies. These are acquired from growing on frags, trading with fellow reefers or acquiring tank breakdowns. If a coral is selected to be a sustainable colony, FragTrade will not sell it, but grow it on until FragTrade can frag a small proportion on a weekly, monthly or yearly basis.
Although been the tip of the Iceberg, the following video is our brand new stock release courtesy of our new expansion:
The end of this article will end in a quote from a previous article – https://fragtrade.co.uk/cutting-corals-made-easier-by-the-release-of-the-revolutionary-basic-fragging-kit/ from CEO of FragTrade Matt.
'Its really not that difficult to frag. Here at FragTrade we simply want to make this hobby affordable and enjoyable for as many people as possible. The best way to do that is to teach. Therefore, we think its important that hobbyists have the knowledge to frag, buy and sell, but most importantly do it safely. In due time this will hopefully have a knock on effect in reducing unsustainable imports from abroad, where most companies don't really know the full story. Unfortunately, that story is usually a bad one. If we frag more in the UK, sustainable, homegrown stocks will flourish, while reduced importation will not only make the hobby cheaper, but it may give the coral reefs a help in hand in their very demanding fight against climate change.'
Thanks for taking the time to read this article and if you have any questions then please write a comment below.
Shop corals now:
Here are the citations for this article:
Cai, Y., Cao, Y., & Tang, C. (2019). Evidence for the Primary Role of Phytoplankton on Nitrogen Cycle in a Subtropical Reservoir: Reflected by the Stable Isotope Ratios of Particulate Nitrogen and Total Dissolved Nitrogen. Frontiers in Microbiology, 10. https://www.frontiersin.org/article/10.3389/fmicb.2019.02202
House, C. H., Oehler, D. Z., Sugitani, K., & Mimura, K. (2013). Carbon isotopic analyses of ca. 3.0 Ga microstructures imply planktonic autotrophs inhabited Earth's early oceans. Geology, 41(6), 651–654. https://doi.org/10.1130/G34055.1
Martin, C. (2018). Estimating the Feeding Habits of Corals May Offer New Insights on Resilient Reefs. Scripps Institution of Oceanography. https://scripps.ucsd.edu/news/estimating-feeding-habits-corals-may-offer-new-insights-resilient-reefs
When corals met algae: Symbiotic relationship crucial to reef survival dates to the Triassic. (2016). Princeton University. https://www.princeton.edu/news/2016/11/02/when-corals-met-algae-symbiotic-relationship-crucial-reef-survival-dates-triassic